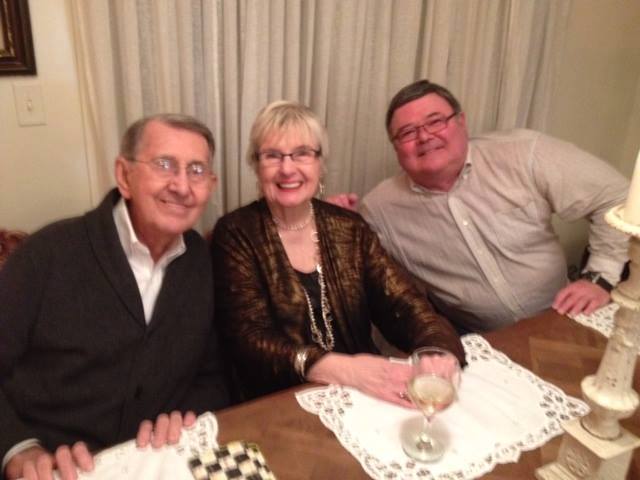 Died on April 8, 2021, age 69 in Tulsa, OK 
It is with a heavy heart TFSC says goodbye to member Will Smith (on the right with Margaret Graham Holt and David Jenkins). Mr. Smith passed away on April 9, 2021 age 69 years. Will was a former competitor representing TFSC at Nationals in singles and pairs with his sister Susan. After his competitive career, he graduated from Colorado College and worked in his family's oil business. Smith had a long career as an official with USFS. He became a national referee and judge for singles, pairs, and synchronized skating. He was an ISU Championship referee and judge judging at the 2006 Winter Games in Torino. Smith also served as Chief Referee at Nationals in Nashville in 1997 and in 2006 in St. Louis. This year marked his 50th year as an official with USFS. Will served the figure skating community as a member of USFS Board of Directors and Midwestern Vice-President.
Will was a competitive skater in his youth representing the Tulsa Figure Club. He competed in singles and National pairs with his sister Susan. After his competitive career he Graduated from Colorado College in Colorado Springs, CO. He spend a brief time in Japan before returning to Tulsa to join the family oil business and began his skating judging and and refereeing career , rising to National Referee and Judge for Singles, Pairs and Synchronized Skating. This year he was to received his 50 year judges award. He was an ISU Championship Referee and Judge, judging the World Championships, many international competitions and the 2006 Olympic Winter Games at Torino. Will served for a number of years on the Board of Directors of U.S. Figure Skating and as Midwestern Vice-President for three years. He was Chief Referee for the '97National Championships in Nashville, the 2006 Nationals in St. Louis and Commissioner at the Olympic Sports Festival in Oklahoma City. Will was a significant supporter of Colorado College and was named "Alumni of the Year" in 2019. His philanthropy included his fathers alma mater, Oklahoma State Universityand most recently the "Gathering Place", Gilcrease Museum and other special projects. Known for his quick good humor and his passion for our sport, he will be immensely missed by all who knew him in the skating world. 
He will be missed by many in Tulsa and many more in the figure skating community. We offer our deepest condolences to his family and friends.