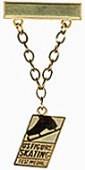 USFS Gold Test Medalists
Each of the figure skaters listed below is very special. They have passed skill tests in front of a panel of judges and advanced through several levels, the culmination of which is the gold test. The senior test, or "gold" test, is the highest achievement a skater can accomplish in any particular discipline. The four current types of skating tests are moves in the field, free skating, pairs, and ice dancing. (previous to moves in the field was figures.) Becoming a Gold Medalist is the result of many years of hard work and dedication. According to US Figure Skating, only about 3 percent of skaters are at the gold or senior level. Once a skater passes the senior test, this accomplishment becomes part of their permanent U.S. Figure Skating record, and can be used on a resume or college application.
We would like to congratulate the following skaters for earning the title "U.S. Figure Skating gold medalist":
2018
Ryen Guthrie, Senior Moves
Josiah Curley, Senior Free Skate

2017
Sky Clark, Senior Moves
Peyton Lissaou, Senior Free Skate
2015
East McMillan, Senior Freeskate
Tiara Smith, Senior Moves
Katherine DeAngelis, Senior Dance
2014
Peyton Lissau, Senior Moves
Jin Wilson, Masters Adult Gold Moves
2013
Danika Burton, Senior Freeskate
Ellie Gilbreath, Senior Moves
2012
Jordan Jonckowsi, Senior Moves
2011
Brittany Schmucker, Senior Free Dance
Brittany Schmucker, Gold Dance
2010
Jessie Hudson, Senior Moves
Kelly Saffa, Senior Moves
Angie Simants, Adult Gold Moves
Taylor Jonckowski, Senior Moves
Michelle Han, Senior Moves
Jamie Rooks, Senior Moves
2009
Elizabeth Hearon, Senior Moves
Paige Westmoreland, Senior Moves
Danika Burton, Senior Moves
2008
Josiah Curley, Senior Moves
This page is a work in progress; please be patient as we comb through our records for names, tests, and dates to add.